Feedback and temporary ending of the web-site for teachers and learners of English as a secondary language from a German point of view
---
Feedback
That's what I think about English lessons with Mr. Maas
At first I thought that English was a very difficult language. But now I think it's easy.
In the first English lessons I saw that Mr. Maas's methods of giving lessons was new, veiled and unclear. That was my view at that time. A few lessons later and after the classroom test I saw that I was not right because the learning methods and the lessons of the new teacher were not wrong but only new for me. I didn't understand the sense.
After a bad mark in the first classroom test I saw that the situation was bad. The first thing that came to my mind was that you couldn't blame me for the bad result. I hoped that the next test would be better but that was not the case. My mark was as bad as the first.
After that I began to ponder and knew that I had to do more to get a better mark and I started to learn for the next test. In the following time I learned and became better in oral co-operation and in the tests, and suddenly I got better marks.
To me it seemed to be a miracle and I saw, that I could get better marks if I did more. In the last two years of learning English I recognized a lot about such topics like "How to give a summary / a report / an analyse". I got to know a lot about functions and many other things.
One of the best projects was "Bovine Spongiforme Encephalopathy" (which is abbreviated BSE). That was an self-directed work for our group and very interesting, too. The other groups had to work with the problems and conflicts in Northern Ireland. Their works and their presentations were very impressive and informative.
I think my English formulation and linguistic proficiency have improved a lot. All in all I can say that Mr. Maas is a good teacher, but not in every respect, because his field of knowledge is too big. I hope that my English skills will be good enough for grammar school.
Written by Marc 10d 12th June
- Maas, English and Me -
Three years ago a new English teacher came into our class. His name was and is Klaus F. Maas, but we didn't know who that man was, nobody that I had talked to knew that man. His identity was like a phantom in our school. And then one day after the new school year had started, he happened to come into our classroom.
At first he told us that he didn't work like our former English teachers... But according to which directives would he act? He called it 'Curriculum' and today we all know the meaning.
I had a bad start with him. I hated him like an American Marine would hate a Taliban. Let me get the facts straight: He gave me the feeling, that I was the only one who didn't understand the lessons. Now and then the feeling crept into my mind like a 'worm' which entered to eat it. And I wasn't the only one who was thinking like that. Whenever I saw this man, there were only two sentences in my mind: 'Save me', and 'Fire free!'
Today I know that things like these don't help, problems like these must be solved by our minds and without weapons. But after the holidays everything changed. Suddenly the sky in my head was filled with parachutes, it was like -D-DAY-, an invasion of my mind by the English language and the topics of the following English lessons. Wave after wave, gun fire after gun fire the English language entered my head.
The long year before that happened, my mind had been like a fortress, which had been blocked. But at that moment it opened the gates. For me, it has been the beginning of a new century! The lessons have been full of exciting things like expressing your vote about the contents and methods of the following English lessons or about working in groups, and it has been a cool time.
There have been many interesting points in the last three years until today and one of the most impressive have been the projects about 'BSE' and 'Northern Ireland'. I think we have learned much more and better than in 'normal' school lessons during this period of time.
So all in all I can say, we can be glad to have had three years like those I've tried to describe. Last but not least I want to mention that the little help of a teacher like Mr. Maas hasn't been too bad.
Written by Manuel 10d June 16th
English lessons - the last three years
At first I want to give you a short introduction: The task for this exercise is to tell a story about the English lessons or about our English teacher. I mixed both exercises and got a report on the English lessons of our English teacher during the last three years.
It was three years ago. We left our school as every summer for six weeks of holidays. Then school started again. But it wasn't as it used to be. Suddenly there was a new English teacher in our class. This man wasn't the like every other new teacher. He started a small revolution in our class. No vocabulary learning any more, no books! Only some sheets of paper, mortar and bricks! Generic or subordinate words?
What should we do? Nobody of us understood this man. Parents went to him and forgot what they wanted to say! Keywords, functions, listening comprehension strategies ... Marks dropped, nothing was clear. The first year - a disaster.

Summer holidays again.

The second year started as the first had ended. But suddenly some pupils began to surf: Surfing on a small wave of knowledge! We skimmed and scanned the lessons, saw the deeper reasons and started working: The projects on "BSE" and on "Northern Ireland":
That was new! Twenty lessons of your own. Working in groups, daily reports, leaders and time-takers. We had some starting-problems but we found solutions and got good results. They are still online!
Then we had a test about this topic: A test in groups? Was it possible? Yes, it was! Another school year was over. Our last summer holidays at this school.
In the third year we were told about the "x-gerund family". Gerund or participle? Difficult. We learned how to analyse a text and discussed work in the household. And believe it or not, we got it.

Last but not least I want to remind the boys of a small lady, a really small lady. We had much fun with her. Especially one boy his name is... Let's stop at this point because I don't want to get a good beating. The last information I got after her examination was that she is living near Landau now. Do you know her name? Yes, you are right: It is Herbi.
Before I make an end to this report here's a last piece of advice: Don't forget: You need order!
written by Mario 10 d 14th June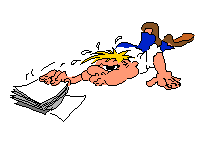 ---